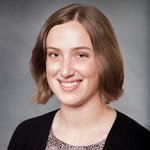 Ms. Trowbridge
Sixth graders participate in band or orchestra.
Ms. Claire Trowbridge graduated from the University of Texas at Austin with a Bachelors Degree in Instrumental Music Studies and a Certificate of Recognition in Clarinet Performance. At the University of Texas, Ms. Trowbridge studied clarinet under Professor Richard McDowell and performed with the Wind Ensemble, Opera Pit Orchestra and Wind Symphony. She was also a proud member and Clarinet Section Leader of the Longhorn Marching Band.
In addition to teaching instrumental music, Ms. Trowbridge has been the Assistant Director and Stage Manager for the Summer Performing Arts Academy musical theatre camp since 2009. She also served as the Cherub Choir Director at St. David's Episcopal Church from 2010-2012. Ms. Trowbridge is currently an active member of TMEA, TBA and the Longhorn Alumni Band.
In her spare time, Ms. Trowbridge enjoys playing clarinet in the Austin Cinematic Symphony, kayaking on the lakes of Austin and hanging out with the peacocks of Mayfield Park.