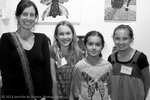 Ms. Leaman & former students
Ms. Emily Leaman is an art teacher with a passion for clay. She grew up on the east coast, where she went to school and got degrees in both Art and Art Education. In addition to working with clay, Ms. Leaman also enjoys painting and making jewelry.
Ms. Leaman does fantastic work for our students and our school community, but she is also an integral part of the Little Artist Big Artist program. Ms. Leaman works to coordinate all of the program's partner schools, communicating with teachers and principals, and even helps out every year running the kids activities at Cherrywood Art Fair!