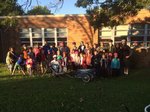 Early morning bike riders strike a pose
Get your kid's Hub card and get credit for biking or walking to school
Related Files: hub_registration_form.doc
"The Hub" is an active transportation incentive system that tracks how often children bike or walk to school. You can also participate by parking your car a block or more away and walking to our campus. Participating students will be issued a card to scan each time they arrive to school by bike or foot. The Hub website tracks participation, so students can compete and earn recognition for their active transportation. The program is free to join, but there is a $5.00 replacement fee for lost cards. By signing up for the program, you also grant permission for us to make posts to the Maplewood School Facebook group, tweets from @MaplewoodATX, and posts to the Maplewood Safe Routes to School Instagram account with your child's image.
Download the registration form and return it to our PE teacher, Mr. Marc Ellison, to sign up!
Questions? Want to get involved with Safe Routes to School?
Email: maplewood.srts@gmail.com